Avenue Q was conceived of as an adult update of the classic Sesame Street, and sets out to skewer the illusions of childhood with the same formula of upbeat songs, teachable moments and (of course) silly puppets as the original. And in many ways, Avenue Q's shortcomings mirror Sesame Street's. Whereas Sesame Street presented an often-inadequate primer on education, multiculturalism, and how to tackle problems related to growing up, Avenue Q is a little too flippant about turning real issues into punch lines, and thereby claiming the mantle of intelligence.
Indeed, the show's ultimate message, if there is a coherent one, might best be summed up as "you're a spoiled shit, so get over it" (which, come to think of it, is just about the caliber of rhyming poetry the lyrics provide). It's a valid point, but not a terribly useful or even insightful one, so as a critique of America's overly coddled and PC cultural moment, it manages to entertain but not truly provoke. The jokes are just a little too easy and the life lessons just a little too cheap to go far beyond the "gosh, how glad I am that I'm smart enough to laugh at myself" level of insight. If it were a little less lazy in its scripting and lyrics, the show might do a better job of rising above the culture of pandering it seeks to parody—though one reason the show was such a huge hit on Broadway may be that we as the audience are less comfortable really laughing at ourselves than we might think. It's much easier, after all, to laugh at our shared annoyance with the status quo than come to terms with the fact that we have work to do to create a better society.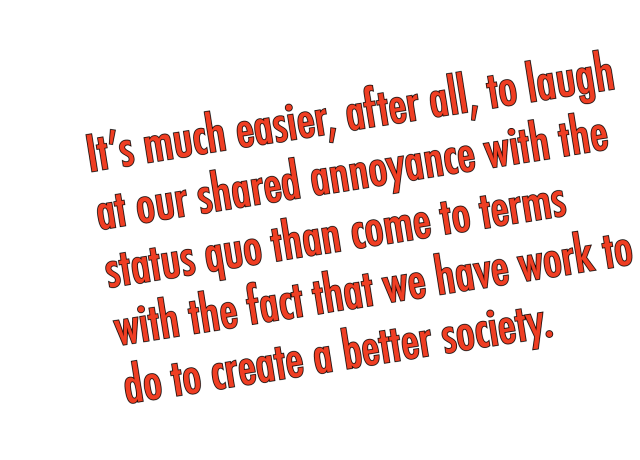 Still, as entertainment, it's well worth the entry price, and the Novato Theater Company makes a lot out of an unexpectedly lovely auditorium space, combining the atmosphere of summer stock in a New England barn with production values that show some real passion and skill (not to mention a respectable budget for community theater). The sets are well crafted and in their bright-yet-slightly-dilapidated splendor, fittingly evoke a cartoon version of the Brooklyn brownstones for which they stand in. Deft use of lighting evokes mood changes from happy to melancholy in the space of a few breaths, and the sound design fills the ample space and does justice to the actors' estimable voices.
The show's appeal reaches beyond theater fans, and from the first musical number, "It Sucks to Be Me", the show promises both wit and the kind of hummable numbers that musical theater was made for. The same magic that let Sesame Street turn harsh urban streets into peppy primary colors makes rockin' tunes out of life lessons on dating, careers, and the often-illusory goals of the pre-programmed trajectory of postmodern life. It's a world at once familiar to those of us with Children's Television Workshop imprints on our childhood brains and somewhat disturbing in its cynical take on the unearned optimism those years gave us. It's a fantasyland that aims for wisdom underneath its goofy veneer, where humans are sometimes depressed but always ready with a song, and Henson-esque puppets sing, dance and get it on in time to the stylings of their singing, dancing, and puppeteering animators.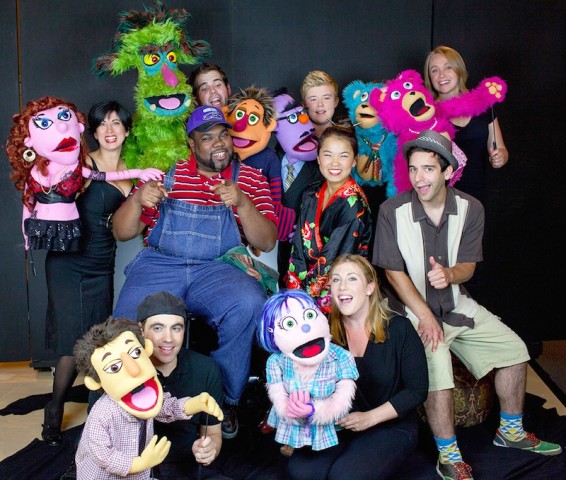 Here, the jokes come fast and frequent, the songs are easy to groove to, and the show is replete with animated vignettes and other elements that recall the variety-show nature of its source material. In one memorable sequence following two main characters' sexual escapade, two silhouettes in an interstitial cartoon make a halting conjunction out of "come" and "mittment," highlighting the sometimes-dashed expectations we bring into romantic encounters.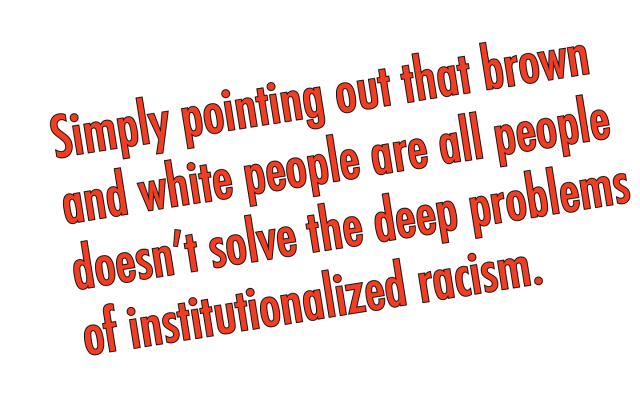 Avenue Q gives the impression that it really wants to make you think. I say "wants to" because it somehow never quite succeeds. The songs lampoon everything from the uselessness of college ("What Do I Do With a BA in English?") to porn culture ("The Internet is for Porn") to race relations ("Everyone's a Little Bit Racist") seen through the tribulations of monsters, or "people of fur." Yet there is little that goes deeper than snarky observation in the lyrics or in the points they make; the implication being that shows like Sesame Street set us up with an oversimplified idea of how life in a multicultural society works. In doing so, Avenue Q slips off the rails of satire and becomes the same trite sort of lecture that Sesame Street was. As far as life lessons go, "if we're all simply nice to each other, we'll get along just fine" it ceases to be much of an incisive point. As adults, we know that's not the case; as, for example, in order to be materially successful, you'll probably need more than just a college degree. Similarly, simply pointing out that brown and white people are all people doesn't solve the deep problems of institutionalized racism or the juxtaposition of our desire for social justice with the unconscious prejudices we harbor.
Comedy, as the saying goes, is harder than drama, and it's difficult not to find the performances engaging even when they are hammy, so the rather unsubtle performances by cast members like Mia Klenk as Christmas Eve (a stereotyped Asian wife) and Dell Parker as Gary Coleman are less glaring in light of the fact that their characters are essentially walking jokes in the first place. This fits with the theme of the show as a liberal apologia, simultaneously letting the audience off the hook as savvy, humorously detached patrons of the arts and neutralizing people of color by turning them into friendly stereotypes.
It's never a bad thing to plunk down some money to see gifted and excited actors ply their craft, all the more so if you're supporting a struggling art form offered by local creatives. To that end, the Novato Theater Company's production of Avenue Q is a lovely evening's fare, but the show's bona fides as a genuine counterculture phenomenon are a little overly hyped. So go for a good time with a little bit of progressive commentary thrown in, and you're sure to enjoy yourself.
——
Avenue Q runs through November 9 at the Novato Theater Company, 5240 Nave Drive #C in Novato.